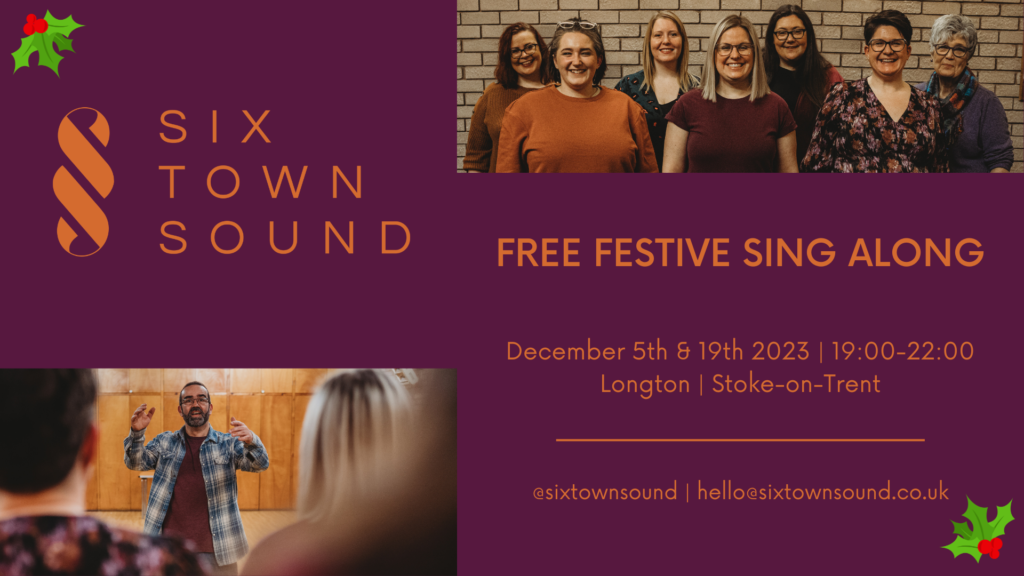 Come and join us for free at our Festive Sing Along with Six Town Sound events in December – book in here
Six Town Sound is Stoke-on-Trent's freshest upper voices a cappella group and we are on the lookout for new members! Find out more.
We come together every other Tuesday evening in Longton to have fun making great music together with friends.
Our aim is to be a top-level vocal ensemble with a passion for performing and a drive for excellence.
Each of our members strives to be the very best individual singer they can be, whilst singing collectively as choir, working towards the common goal of quality in music. We are dedicated musicians who work hard to ensure that our performances thrill and excite our audiences every time they hear us.
Our a cappella repertoire is wide ranging; classic jazz standards, modern pop songs, traditional choral works and musical theatre numbers are all welcomed – all with Barbershop harmony as the foundation. Influences come from a wide variety of vocal groups such as Voctave, The Manhattan Transfer, King's Singers, Voces8 and The Swingles.
Our members travel from around the north of England and Wales to bring a wealth of knowledge of a cappella, musical theatre and live music events experience and knowledge making Six Town Sound a dynamic, challenging and welcoming choir.
We would love you to come join us or book us for your event.
Any questions? Get in touch!